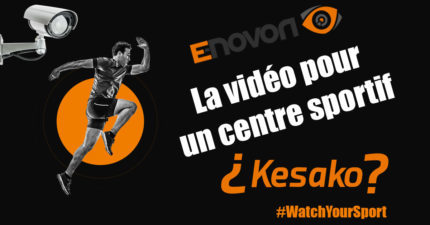 Video is the flagship product of our range (InoWys), it is a service that has become commonplace in 5-a-side football centres in recent years.
🗯Misconceptions about video for sports centres 🗯
Price : a service still considered expensive, despite its direct and indirect profitability
Its limited usefulness : some managers only think of a strict use of their solution, a way to rebroadcast their clients' matches…
The difficulty of use : a tool that is too high-tech for everyone to use
The fact that delivery is seen as a simple and unique way to improve the gaming experience
❓ What is the advantage for a sports centre to have video ❓
New marketing argument ⤵
Video boosts a centre's marketing & communication data.
Improved customer experience ⤵
This third-party service enhances the user's experience before, during and after the game.
Visual communication ⤵
The video clips allow for visual content to be posted on their social networks.
Attracting new customers ⤵
It is not new that the 2.0 gaming experience attracts young people. A whole target segment for a sports complex can therefore be seduced by the services of a digital centre.
Competitive differentiation ⤵
Even if this product is known to all, it allows you to differentiate yourself from a competitor who would not have seen fit to use it.
📊 STATS 📊
According to a survey of our current customers :
On average, the number of views is 3000 per site per month.
(This number is doubled if this product is shared with the centre's mobile application, as the notifications automatically engage customers to view the videos)
💬 TESTIMONIES 💬
"Digital videos and scorekeepers enhance the customer experience beyond football practice !"
Romain Nibourel – UrbanSoccer
"Not all 5-a-side players are necessarily fans of these technologies, but a big part of them, especially the young ones, really enjoy it !"
Romain Sombret – Mon Club & Monclub 2.0
"InoWys cameras fit in with this, it's a better service to rent my land !"
Nuno Pereira – Beloura Soccer
"There are several very interesting aspects to setting up such a system…It can also be used as a teaching tool for lessons and school !"
Stéphane Massot – All in Padel Sports
✅ The BENEFITS of white label video for your complex ✅
View and share videos ONLY from YOUR website and YOUR mobile application 📺
Inlay of YOUR graphic charter and YOUR logo 🧬
Creating a database of YOUR customers 🎯
Recreational broadcasting of the centre's matches 🎞