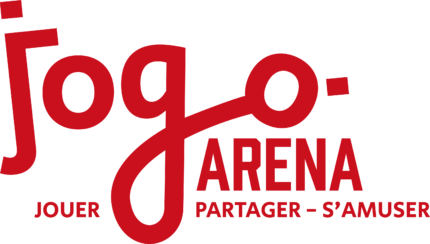 #6 Collab interview with Franck Nocquet
Franck Nocquet recently carried out a complete redesign of the visual identity of his Jogo Arena centre in Niort. It has also decided to implement a comprehensive digital package for the customer experience of its players. He describes the importance of digitalisation for the business of private sports facilities.
First of all, tell us about yourself and your centre ?
I am Franck Nocquet, manager of the centre Jogo Arena for over 13 years now. It is a complex located in Niort in which there is a football field and two jorkyball fields.
What were your motivations for changing its name and visual identity ?
So I made this change at the beginning of the school year in September. My main motivation was, after more than 10 years of activity, to renew the brand, the image and the notoriety a little. The second objective is that I plan to evolve my hall by removing my two jorky courts and replacing them with another activity. So, as the old name Futbol Futbol was very strong, I wanted to change it to a more general name that would allow another activity that was not football to be included.
Why did you decide to equip yourself with InoApps, our mobile application solution?
I have been working with E-NOVON for 6 years now with the video system on my football field. They are professional people in whom I have complete confidence. We discussed together the possibility of pooling all the functionalities with a single solution and this is also one of the reasons that motivated me to do so.
If you had to remember one feature of InoApps, what would it be ?
I would say the video, the replays. Having the ability to watch your games and goals directly on the app remains the must-have feature of InoApps.
What added value has InoApps brought to your Jogo Arena ? In terms of communication ? In terms of organisation ?
Unfortunately, at the moment, I don't have enough distance and time to be able to answer you exactly. But I can guarantee that in terms of image and reputation, we are much better positioned.
In terms of organisation, it's simple, because I can manage everything via my interface managing the smartphone. And what's more, it's very ergonomic, very fluid and very fast.
What is the feedback from your customers on your new application ?
There are two types of customers. First of all, my most loyal customers, who find it difficult even to download the application to their mobiles. However, as I know them well, I quickly convince them of the advantages of InoApps. In general, they correspond to the over-30s, which is the archetype of our clientele. On the other hand, you have the younger ones who love it, we don't even have to recommend it to them. They download the application and adapt to it quickly. This is clearly a generational issue. And for young people, as they say : they love it !
Being already equipped with our InoWys, systems, can you describe how InoApps et InoScore optimise our overall solutions ?
Today everything is connected, the customer has a complete user path. Before the game, he books directly on the app and invites the other nine players. When he arrives at the centre, he starts his match, it's very simple and fast. He creates his two teams, puts his five players in each team and then as soon as he validates the start of his match it is displayed on the InoScore device installed at the edge of the pitch. During the game, again very simply, he manages his goals directly via his smartphone. As everyone says, it's a cool gaming experience that ultimately doesn't require much mastery of technological tools. Once the game is over, the player has the possibility to replay the game in my Club House. This is also an interesting possibility for me, as it allows me to keep my customers in my complex. Finally, the videos are also available directly on the mobile application, in the user space of the players the same evening or during the day.
In a few words, how would you sum up the collaboration with E-NOVON ?
I would say 100% efficient. As I said earlier, we need responsiveness and professionalism. At this point, I must admit that I really recommend E-NOVON. You respond immediately to problems, you provide us with answers and solutions right away. That's just what we're looking for as centre managers, and as soon as we have a problem, it has to be solved as soon as possible.
Finally, what can we wish you for this new year ?
Simply that the project I am implementing, namely the installation of two golf simulators, is working ! The start-up will be in February or March.
Finally, do you have a message for your athletes ?
May they be as well as possible during this difficult period, may they take care of themselves ! Once again, I am delighted to welcome them to my home regularly. I also wish them all a happy new year !
Thank you Franck and see you soon !